Konečně ten pravý?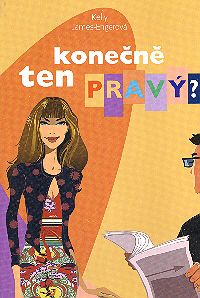 Tell a friend
CDN $24.00

(US $18.72)

CDN $5.00

(US $3.90)

268 pages

ISBN

: 80-7341-668-9

Publisher

: BB Art

Published Date

: 2006v

Cover

: Hard Cover
Czech
Zažily jste někdy při setkání s někým, že mezi vámi přeskočila jiskra nebo že jste ucítily chvění?
Jestliže ano, pak budete rozumět osmadvacetileté hrdince tohoto románu jménem Kate, která chození s muži založila právě na takovémto principu.
Jestliže zaznamenáte chvění, stojí za to o potenciálního partnera usilovat. V opačném případě na něho raději zapomeňte. Problém ale nastane, když dokonalý Andrew pustí Kate k vodě a ona se nemůže vejít do svých milovaných džínsů. Nadto nesnáší svou práci, i když jí všichni říkají, že být právničkou je skvělé. Naštěstí má svou nejlepší kamarádku Tracy, se kterou společně studovaly práva. Tracy je nádherná, chytrá, má skvělou práci, byt a stálého partnera Toma. Trpí ale také stravovacími potížemi, které skrývá dokonce i před svou nejbližší kamarádkou. Tracy nevěří na teorii o chvění, dokud ji poprvé nezažije na vlastní kůži. A tato zkušenost obrátí její život vzhůru nohama. Dokáže Kate najít trvalou lásku, smysluplnou práci a podaří se jí zhubnout? Vzdá se Tracy muže, který ji miluje, aby mohla zažít sexuální naplnění, a dokáže se postavit tomu, jak zachází se svým tělem a duší?
English
Novel about a woman who is trying to find love, the right job and loose some weight...