Hubneme s rozumem, zdravě a natrvalo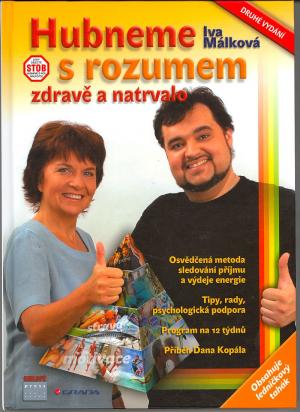 Tell a friend
CDN $33.00

(US $26.73)

CDN $10.00

(US $8.10)

218 pages

ISBN

: 978-80-87049-06-8

Publisher

: Smart Press

Published Date

: 2007

Cover

: Hard Cover
Czech
Máte kila navíc? Tato kniha neslibuje zázraky, jenom osvědčenou cestu jak snížit kalorický příjem a zvýšit výdej.
PROGRAM NA 6 TÝDNŮ.
Přílohou knihy je unikátní ledničkový tahák - obsahuje energetické hodnoty dostupných potravin a barevně vyznačené živiny (bílkoviny, tuky, sacharidy a množství vody v potravinách) a glykemický index.
Kniha o zdravém hubnutí vás nebude nutit k žádné dietě, ale neslibuje rychlá řešení. K trvalému zhubnutí vede jediná cesta - snížit energetický příjem a zvýšit výdej, změnit svůj životní styl. Všichni dělají podobné chyby - problém s kily začíná v hlavě, v nevhodných návycích. Vše je vysvětleno na názorných příkladech, pochopíte, proč se vám dosud nepodařilo zhubnout a proč diety nefungují. Naučíte se, jak si sestavit zdravý jídelníček, který vám bude vyhovovat.
Kniha obsahuje dvanáct lekcí, jež povedou k rozumné redukci váhy - za týden půl kilogramu, za měsíc dva kilogramy a po skončení společného hubnutí šest kilogramů. To, co obvykle v knihách o hubnutí nebývá, je kapitola, jak si váhové úbytky udržet, kapitola o pohybu a jak mít rád sám sebe - jde však o kapitoly podstatné pro zvládnutí předsevzetí, jak znovu nepřibrat.
English
How to deal with an extra weight. Great book!