Gargantua a Pantagruel I. - V. ANT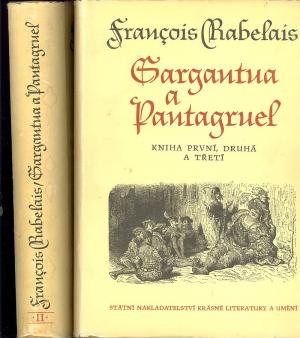 Tell a friend
CDN $20.00

(US $16.00)

CDN $10.00

(US $8.00)

980 pages

ISBN

: 01-020-62

Publisher

: Státní nakladatelství krásné literatury a umění

Published Date

: 1962

Cover

: Hard Cover
Czech
Příběh otce Gargantua a jeho Pantagruel a jejich dobrodružsví.
Rozsáhlý svazek pěti novel (téměř tisíc stran!), napsaných v 16. století.
Bohatě ilustrovaná: Gustav Doréa.
Kondice: velmi dobrá.
* cesta za poznáním, osudy několika generací
* BURLESKNÍ román - z latinského Burla = tretka nebo z italského Burlesca = fraška, žert
* skládá se z pěti knih, o pravosti té páté se pochybuje, nejspíš ji napsal někdo jiný
* dílo vzniklé na rozhraní dvou epoch - satira a celý Gargantua (středověk), Pantagruel (renesance)
* kritika všeho, co odporuje zdravému rozumu (dogmatické pojetí církve, nepružnost právní praxe, …)
* citace antických autorů, i Villóna, parodické obrazy
* velice významný je zde jazyk - záměrně šroubovaný, lidový, vulgarismy, archaismy, latinská slova, neologismy, …
1. kniha
O narození Gargantua, jeho studium v Paříži, založení utopistického státu Thelémské opatství (ideál svobodného společenství)
2. kniha
Na svět přichází Garantův potomek Pantaggruel, také studuje univerzitu, válčí s Dipsody a vítězí nad mocným králem anarchem
3. kniha
Pantagruel zvažuje, zda se má oženit, radí se, ptá se Sibyly, básníků, svolává konzilium a nakonec jde do věštírny Božské lahvice
4. kniha
Fantastická plavba do věštírny a poznávání různých ostrovů
(ostrov Větrů, Jitrnic, …)
5. kniha
Stále ještě plavba a návštěva věštírny
English
The Life of Gargantua and of Pantagruel is a connected series of five novels written in the 16th century by François Rabelais. It is the story of two giants, a father (Gargantua) and his son (Pantagruel) and their adventures, written in an amusing, extravagant, satirical vein. There is much crudity and scatological humor as well as a large amount of violence.