Legendy československého letectví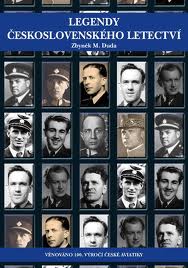 Tell a friend
CDN $35.00

(US $24.50)

CDN $25.00

(US $17.50)

382 pages

ISBN

: 978-80-87044-42-1

Publisher

: Netopejr

Published Date

: 2011

Cover

: Soft Cover
Czech
Publikace obsahuje portréty významných osobností československého letectví, které měly nesporný vliv na jeho vznik, vývoj i formování až do poválečných 50. let. Můžete sledovat osudy výjimečných lidí, jejichž životy často doznaly překvapivých zvratů. Začtěte se do příběhů hrdinů, leteckých nadšenců, legionářů, vojáků, kteří se stali nedílnou součástí české historie.
Kniha obsahuje portréty těchto letců: brig. gen. Rudolf Holeka, gen. M. R. Štefánik, legionář plk. Bedřich Starý, gen. ing. Alois Vicherek, brig. gen. Josef Duda, CBE, brig. gen. ing. Karel Mrázek, DSO, DFC, brig. gen. Miloslav Jan Mansfeld, DSO, DFC, AFC, brig. gen. Antonín Liška, brig. gen. Alois Vašátko, DFC. Nedílnou součástí knihy je výjimečná stať Britské řády a dekorace udělené čs. občanům, která vycházela na pokračování v Historickém kaleidoskopu.
Kniha má 380 stran, je plnobarevná, s mnoha zajímavými fotografiemi a dokumenty, z nichž některé nebyly dosud publikovány.
English
The legends of the Czech aviation.