Mluví k vám Ferdinand Peroutka Druhý díl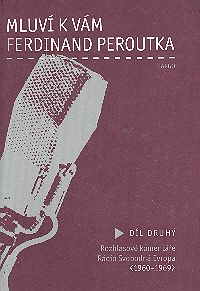 Tell a friend
CDN $37.00

(US $29.97)

CDN $15.00

(US $12.15)

554 pages

ISBN

: 80-7203-577-0

Publisher

: Argo

Published Date

: 2005

Cover

: Hard Cover
Czech
Druhý díl výboru promluv Ferdinanda Peroutky psaných pro československé vysílání RFE navazují svým charakterem na díl první. Liší se snad jen tím, že zatímco léta padesátá mohl Peroutka komentovat jako "účastník", v dalších letech se přece jen projevuje, že mu chybí přímý dotyk československé reality, bezesporu se také mezi řádky projevuje rostoucí rozčarování z pojetí smyslu existence RFE.
Přesto se čtenáři dostávají do rukou texty, které mu dovolují nahlédnout zpět do světového dění dvou nikoli bezvýznamných desetiletí minulého století a znovu si oživit dobu, která představovala permanentní spor mezi Západem a Východem, často spíš spor "mocných" či po moci bažících, kteří nezřídka své diskuse vedli na území a prostřednictvím států malých. Oba díly obsahují poznámky, jmenné rejstříky, díl třetí pak fotografickou přílohu vztahující se ke všem třem dílům zároveň.
English
Radio broadcastings of F. Peroutka from the 60's.