Šťastné a veselé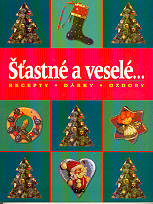 Tell a friend
CDN $16.00

(US $12.48)

CDN $10.00

(US $7.80)

160 pages

ISBN

: 80-7209-250-2

Publisher

: Slovart

Published Date

: 2000

Cover

: Paperback
Czech
Výzdoba domu, vánočního stromku a svátečního stolu Vánoční věnce Vánoční pečivo a další vánoční lahůdky, domeček z perníku, různé slavnostní nápoje (vaječný likér), náměty a předlohy na výrobu drobných dárků, vánoční blahopřání 16 stran vzorků a předloh.
Pěkná knížka, barevné fotografie.
Množství limitované!
English
Book of Christmas recipes, decorations, Christmas table, gift ideas and more with nice colorful photographs.