Česká republika: Atlas s cyklotrasami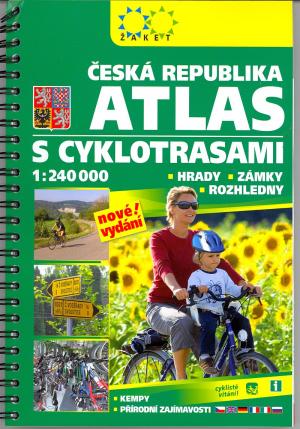 Tell a friend
CDN $18.00

(US $14.58)

CDN $15.00

(US $12.15)

165 pages

ISBN

: 978-80-7233-342-4

Publisher

: Žaket

Published Date

: 2010

Cover

: Spiral Bound
Czech
Atlas České republiky s úplnou silniční sítí, doplněný mezinárodními, dálkovými a regionálními cyklotrasami (I. až IV.třídy podle systému KČT).
Dále jsou v mapě vyznačena vlastní mapovou značkou informační střediska, certifikovaná zařízení Cyklisté vítáni, kempy, hrady, zříceniny a zámky, rozhledny a technické památky, přírodní zajímavosti a památky UNESCO.
Atlas obsahuje 78 mapových listů, textová část obsahuje 70 listů (rejstřík všech sídel s jejich PSČ, aktuální seznam informačních středisek s kontakty, aktuální seznam certifikovaných zařízení Cyklisté vítáni s kontakty).
Měřítko 1:240 000, formát A5 s praktickou kroužkovou vazbou.
English
Atlas of Czech republic: where to go on your bike.