CD Návštěvní den 6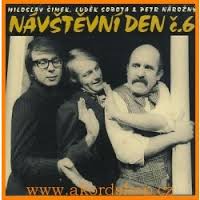 Tell a friend
CDN $10.00

(US $8.00)

CDN $5.00

(US $4.00)

Duration:
Czech
Návštěvní den číslo 6 Miloslava Šimka a Luďka Soboty, tedy pořad, který měl v Semaforu premiéru 25. 2. 1975, navazuje na tradici divadelních a televizních Návštěvních dnů, které jsme autorsky připravovali s Jiřím Grossmannem. Jestliže zpěváci našeho divadla interpretují v 6. návštěvním dnu jeho texty písní, nepřiznáváme tím otevřeně jenom to, že se nám po Jirkovi stýská, ale také to, že nám schází. A to ve všech směrech, jako kamarád, herec, autor a textař.
A nic na tom nemění skutečnost, že tato deska je záznamem především mluveného slova a báječných písniček.
English
Spoken word and music. Humor.