DVD Karamazovi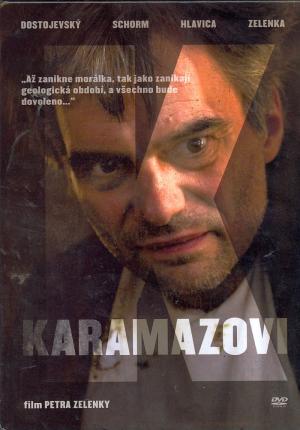 Tell a friend
CDN $40.00

(US $30.00)

CDN $25.00

(US $18.75)

Duration: 100 min.
Sub-titles: Czech and English
Czech
KARAMAZOVI, jehož podtitul by mohl znít "žijeme jak zvířata, ale chceme se modlit", je dramatem o morálce, povaze člověka, lidském svědomí, vině, trestu a odpuštění. Film není jen psychologickou sondou do zpustošené ruské duše, ale reflektuje aktuální téma odpovědnosti člověka za své činy.
Film byl nominován v osmi kategoriích na Českého lva a odnesl si dvě sošky za nejlepší film roku a za režii. Byl také nominován na Oskara za nejlepší zahraniční film. Na prestižním karlovarském festivalu získal Cenu mezinárodní filmové kritiky FIPRESCI.
English
The play's the thing -- but certainly not everything -- in Czech helmer Petr Zelenka's "The Karamazovs," which incorporates large chunks of a stage production of Dostoyevsky's novel. The phenomenal legit performances are alone worth the price of admission, but a side story involving the Czech Dejvicke Theater troupe at a festival in Poland adds extra weight and underlines the timelessness of Dostoyevsky's themes. Excellent but extremely highbrow pic should enrapture festival-goers.
With: Ivan Trojan, Igor Chmela, Martin Mysicka, David Novotny, Radek Holub, Lenka Krobotova, Michaela Badinkova, Andrzej Mastalerz.
(Czech, Polish dialogue)