DVD Ves v pohraničí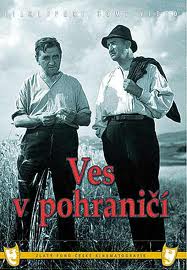 Tell a friend
CDN $29.00

(US $22.62)

CDN $15.00

(US $11.70)

Duration: 97 min.
Sub-titles: Czech
Czech
Krátce po druhé světové válce do českého pohraničí přichází mnoho lidí, kteří zde mají osídlit opuštěné usedlosti. Mezi nimi je i rodina pražského zelináře Pavlase.
Hrají: J. O. Martin, Jarmila Kurandová, Bohuš Záhorský, Rudolf Hrušínský st., Jan Pivec, Andrej Bagar, Jaroslav Vojta, a další .
První osídlenec, který měl převzít pilu je zákeřně zavražděn neznámým mužem, který se zmocní jeho dokladů a vystupuje pod jeho jménem. Pavlas je zvolen předsedou místní samosprávy. Svými skutky vzbudí nevoli u některých novousedlíků, kteří by raději v čele viděli správce pily. Dědeček Pavlas však přivede četníky na stopu německých pašeráků…
English
The village in the border area. Shortly after WW II, new settlers settle on abandoned homesteads.