DVD Andělské oči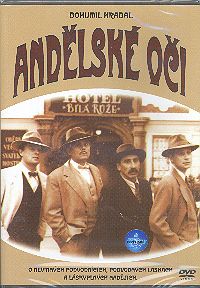 Tell a friend
CDN $35.00

(US $26.25)

CDN $15.00

(US $11.25)

Duration: 90 min.
Sub-titles: Czech
Czech
Hořká komedie o různých podobách lásky z povídek Bohumila Hrabala.
Příběh se odehrává v létě 1947, kdy narůstala hrozba likvidace drobných živností. Dobové atmosféry využije parta falešných pojišťováků a začne ustrašeným řezníkům, holičům, drogistům či ševcům nabízet ve své "Opoře ve stáří" jakousi pomyslnou ochranu před neodvratitelnou společenskou katastrofou.
Té sehrané partičce však nejde jen o finanční zisk, spíše je to všechno jakási klukovská hra, kdy se pánové parádně a s patřičnou nadřazeností baví na účet svých důvěřivých klientů. Jednou ale padne kosa na kámen - sami se nechají stejně zaslepeně obelstít "andělskýma očima" někoho, kdo byl chytřejší a důvtipnější než oni. Příjemný dobový film, maloměsto plné svérázných lidských typů, to vše promícháno s lehce ironickým vlídným humorem.
Hrají: Josef Abrhám, Pavel Kříž, Pavel Zedníček, Viktor Preiss, Zlata Adamovská