DVD Dvanáct křesel Revizor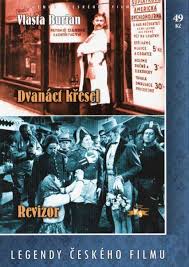 Tell a friend
CDN $15.00

(US $10.50)

CDN $5.00

(US $3.50)

Duration: 63 + 70 min.
Sub-titles: Czech and English
Czech
Dva filmy na jednom DVD!
DVD Dvanáct křesel:
Holiče pana Šuplátka ohromí zpráva o nečekaném dědictví. V očekávání velkého bohatství se rozjede do Varšavy, aby ho osobně převzal. Je ale velmi zklamán, když na něj čeká pouze dvanáct křesel a tetin obraz. Sto tisíc dolarů je přesto někde ukryto.
DVD Revizor:
Ruské provinciální městečko očekává příjezd tajného revizora z hlavního města. Považují za něj mladého frajírka Chlestakova, který tudy projíždí. Ten se do této role ochotně vžívá, nechá se hostit a přijímá úplatky.
Hrají: Vlasta Burian, Jaroslav Marvan, Václav Trégl, Zdeňka Baldová, Theodor Pištěk, Ella Nollová, Eman Fiala, Wiktor Bieganski, Stanislaw Bielski, Adolf Dymsza, Wanda Jarszewska
V kartónu.
English
The Twelve Chairs, The Inspector General
Two movies on one DVD.
Comedy.