Stateční kapitáni USED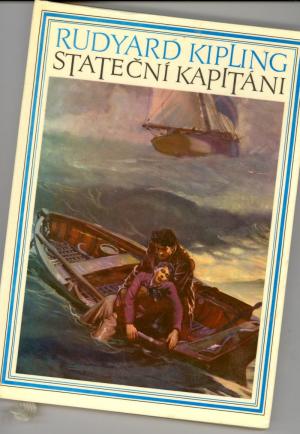 Tell a friend
CDN $28.00

(US $21.84)

CDN $10.00

(US $7.80)

130 pages

ISBN

: 26-056-70

Publisher

: Lidové nakladatelství

Published Date

: 1970

Cover

: Hard Cover
Czech
Legendární dobrodružný román Rudyarda Kiplinga, podle něhož byl natočen film Captains Courageous, je ilustrován celostránkovými ilustracemi Zdeňka Buriana a je ve výborné kondici.
English
Captains Courageous has been filmed three times:

* In 1937 as a cinema movie, produced by Louis D. Lighton, directed by Victor Fleming and starring Spencer Tracy, Freddie Bartholomew, Lionel Barrymore, Melvyn Douglas, Mickey Rooney, and John Carradine. Tracy won the Academy Award for Best Actor for his work in this film.
* In 1977 for television, directed by Harvey Hart and starring Karl Malden, Ricardo Montalbán, Fritz Weaver, Fred Gwynne and Neville Brand.
* In 1996 for television, directed by Michael Anderson and starring Robert Urich, Kenny Vadas, Kaj-Erik Eriksen, Sandra Nelson and Colin Cunningham.

Musical theatre:

* Captains Courageous, The Musical was a 1999 Off Broadway production at the Manhattan Theatre Club.