SLUNEČNÍ ŽIVÁ STRAVA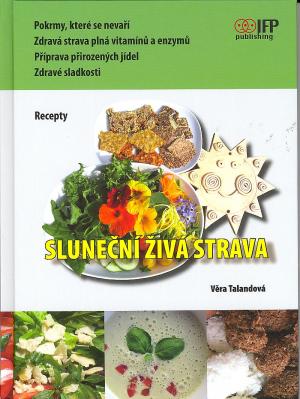 Tell a friend
CDN $24.00

(US $19.44)

CDN $5.00

(US $4.05)

120 pages

ISBN

: 978-80-903997-9-2cb

Publisher

: IFP publishing

Published Date

: 2009

Cover

: Hard Cover
Czech
Cesta ke štíhlému tělu a zářícímu zdraví může být dostupná každému z nás. A stačí tak málo. Třeba se jen zamyslet nad moudrostmi, které jsou známé v každé kultuře a v každé době.
Nenabízí nám snad sama příroda zdravou stravu plnou zdravých látek? Nabízí. Bohužel, tepelnou úpravou, která je dnes běžná, přicházejí potraviny o všechny vitamíny a enzymy, které nepřežijí teploty nad 45°C. Ale co můžeme dělat?
Řešení přináší neúnavná propagátorka tzv. živé stravy, Věra Talandová v podobě receptů na přípravu zdravých jídel vynikající chuti, které zůstávají plné enzymů a vitamínů. V receptech jsou použity suroviny pouze syrové, maximálně sušené za nízké teploty. Stačí pohlédnout dovnitř této knihy a zjistíte, jak jednoduchou přípravou lze získat velmi zdravou a chuťově vynikající stravu. A to i v případě sladkostí, kterým je věnována celá jedna kapitola.
Ano, cesta ke zdraví, štíhlosti a vitalitě je dostupná každému z nás. Protože se stáváme tím, co jíme. Jsme tak živí a zdraví, jak živá a zdravá je strava, kterou se živíme.
English
How to be healthy and slim.